Shopping Cart
Your Cart is Empty
There was an error with PayPal
Click here to try again
Thank you for your business!
You should be receiving an order confirmation from Paypal shortly.
Exit Shopping Cart
The Brand Wellness Center - Enlightened Dentistry
A NATURAL HOLISTIC APPROACH TO DENTAL HEALTH AND WELL-BEING.
19 West 34th Street

Suite 1022

New York, NY 10001
| | |
| --- | --- |
| Posted on July 21, 2019 at 10:05 PM | |
Dental fluorosis is not a pretty sight. In this modern day, pearly white teeth are in, mottled teeth are not. It is particularly upsetting when our children's teeth erupt this way and are disfigured for life, knowing that there is little that can be done to undo the damage.
 Dental Fluorosis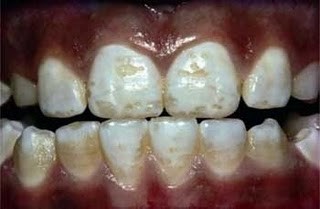 According to a new study published in the Journal of Dental Research –Clinical & Transactional Research, Dental fluorosis is on the rise. This analysis of the most recently available government data (National Health and Nutrition Examination Survey –NHANES- 2011 to 2012 survey) found that 65% of American children now have some degree of dental fluorosis. This is an 8-fold increase (WOW!!!) from the previous national survey in 1999-2004 that found only 3.7% of children with dental fluorosis.




Not happy with these statistics, the Center for Disease Control (CDC) published its own report several weeks later. While they also calculated the same drastic increase in dental fluorosis, they suggested that it is "not biologically plausible" and there "may have been some changes in the way the examiners evaluated the levels of fluorosis over time."




It would seem that the CDC does not want to admit that the population is being over-fluoridated and is now looking for an excuse to explain the tremendous increase in our children's damaged teeth.




Too much fluoride in our water and food supply is a reality that is easily seen in teeth. Just imagine the unseen damage that it is having on the internal aspects of our bodies in both children and adults.




Since it doesn't seem that fluoride will be removed from the municipal water supply anytime soon, it is best to be proactive and filter our individual tap water supply and also take supplements to remove this toxin from our systems. Details on how to do this can be found on our many posts on Fluoride.

Feel free to share your additional ideas in the comment section below on the many ways you are dealing with removing fluoride from your environment.




Categories: Detoxification, Fluoride, Enlightened Dentistry

0

/